Stakeholder engagement
We will actively engage with and learn from stakeholders, drawing on their experiental evidence regarding what works to ensure an equitable improvement of newborn and maternal health. Through ongoing engagement activities, we also seek to increase the awareness among those in power of the problem of large inequalities in maternal and newborn mortality and how best to address this problem. A summary of the stakeholder engagement activities is given below.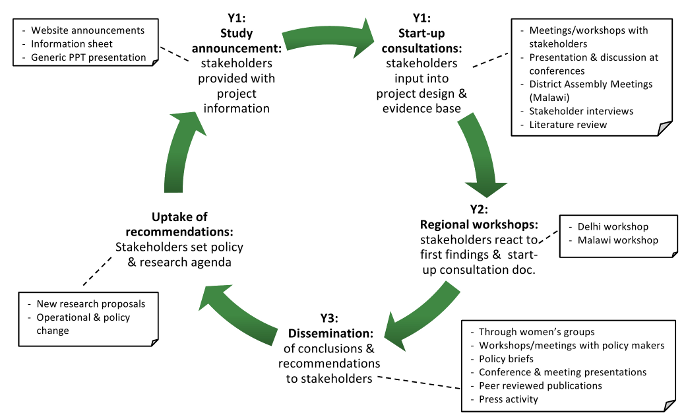 If you like to be involved in our stakeholder involvement activities, please send an email to: Dr. Tanja AJ Houweling (a.j.houweling@erasmusmc.nl). Alternatively, you can also contact one of the project partners directly:
Year 1:
Study announcements
Please click here for an overview of the website announcements and the resources produced for the study annoucements.
Start-up consultations
The objectives of the start-up consultations are:
to raise awareness about EquiNaM;
to get input into design and implementation of the study;
to incorporate learning from stakeholders regarding what works to ensure an equitable achievement of MDG4 and 5;
to build a platform for ongoing engagement.
In particular, we aim to draw on experiential, often tacit, evidence of stakeholders regarding what works and what doens't work, in which contexts, to achieve an equitable improvement in newborn and maternal health.
Methods used for the start-up consulations include:
presentations and discussions at seminars, conferences and workshops
interviews and focus group discussions with stakeholders
targetted meetings and workshops with stakeholders
district assembly meetings (Malawi)
Year 2 - 3:
International Workshop: "New Evidence Supporting Equity in Newborn & Maternal Health in South Asia", 8-9 May 2014, Kathmandu, Nepal
This workshop brought together policy makers, practitioners and researchers from the South Asian region to share and discuss the latest evidence on how to address inequalities in newborn and maternal health.
The program included presentations and discussions on:
Setting evidence-based priorities in addressing inequalities in newborn & maternal health;
How to partner with communities to reach the most in need;
How to involve young primigravida women in maternal health interventions;
Role of government incentive schemes in addressing newborn health inequalities;
Role of the private sector in inequalities in newborn & maternal health;
Experiential evidence from policy makers and practitioners on what works to address inequalities.
The workshop output included recommendations for country action plans to address inequalities in the Every Newborn Action Plan (see publication in Lancet Global Health).
For further details, see the workshop flyer, the workshop participant list, and participant group photo.
Africa workshop
We plan to hold a regional in Malawi later this year. The purpose is to present and discuss initial findings and ask for input from a broad audience from several countries in Central Africa and South Asia.
Dissemination
We will hold targetted dissemination presentations at national level seminars in Nepal, India and Bangladesh and at the community level through women's group meetings.